MEDEIL - The Best Software for Pharmacy
An easy-to-use pharmacy software enables you to run an error-less pharmacy business.
Helping you serve loyal customers since 2009.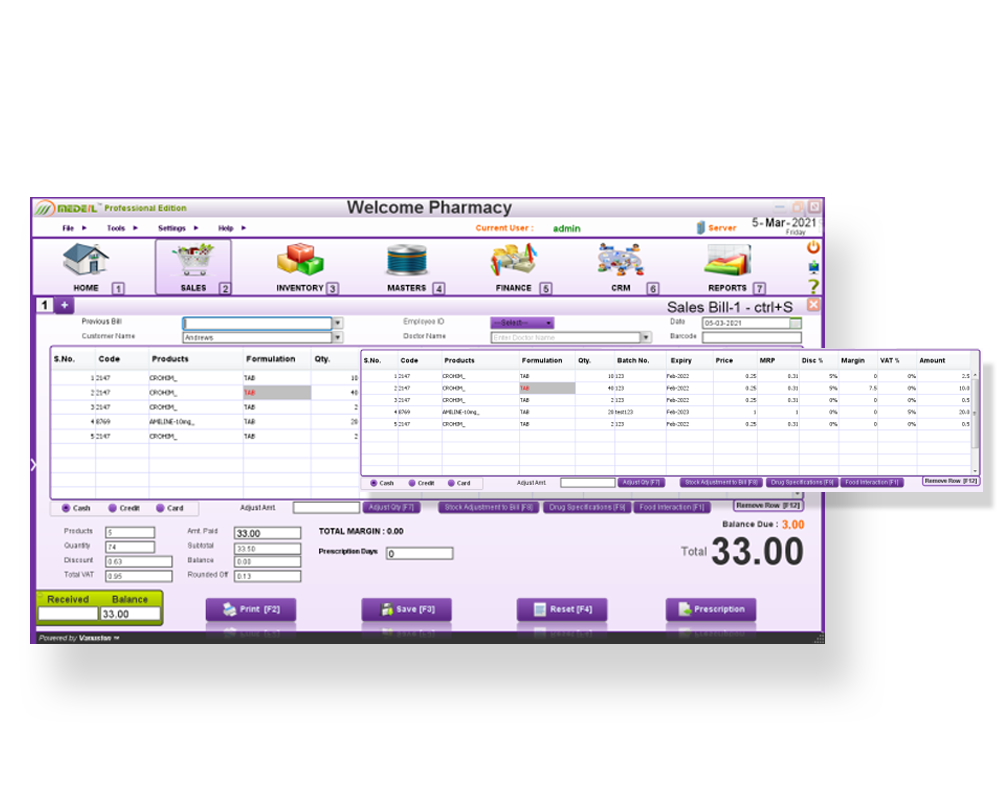 Vanuston is thrilled to announce the release of the best-in-class, user-friendly pharmacy software that will change how all pharmacy business operates. So, be it a single retail pharmacy shop or multiple branches, Medeil Pharmacy Software is the one-stop solution to manage your day-to-day operations effortlessly, without scratching your head now and then.
Today, pharmacies across the globe face numerous problems in their daily operations, including a lack of stable pricing, prescription errors, tracking and managing inventory (Stock levels, expiring stock, etc.), vendor management, overall workflow management, and patient education.
These hectic and unmanageable tasks lead pharmacy business owners to perform an ordinary, break-even, or sometimes, loss-making business. However, once a customer does not feel special at the store or does not feel attentive, businesses may lose a loyal customer.
Digital Transformation of your Pharmacy
Medeil is an easy-to-manage, cost-effective software for pharmacies that helps business owners manage their businesses smoothly, without any worries. Medeil software for pharmacy helps businesses with vendor registration, procuring pharmaceutical products, monitoring medical inventory with batch numbers and expirations, invoicing and billing, accounting, and business intelligence reports. All in one place. 
What can Medeil pharmacy software do for your business?
"Medeil pharmacy software can optimize your pharmacy business for smooth operations."
Get the best solutions for your pharmacy business problems.
Smartly manage your pharmacy business with Medeil pharmacy software's State-Of-The-Art features.
● All-in-one management system. 
● Quick alerts on expiry dates.
● Supports sale of the counter, prescription items, and FMCG products.
● Smartly alerts about new and banned drugs and detects counterfeit drugs.
● Handles return & refund of sold items.
● Provides role and user-based security and access rights.
● Email/SMS alerts and scheduled reminders.
● Professionally formatted business intelligence reports and user-customizable reports.
● Send messages for reminders, product promotions, and delivery.
Why is Medeil pharmacy software the best of all time?
Medeil pharmacy inventory management software is a one-stop solution to grow your business.
And if you are stuck in between the operations, our 24/7 technical support staff will help you
resolve your query asap.
Our technical support options include;
チャット
● Telephone
● Email
● Ticketing System
We'll ensure you are never stuck between your daily operations and always deliver value to your
loyal customers.
Whether you are generating bills or managing your stocks, Medeil pharmacy software is your
go-to solution.
Got other requirements? Just ask for it.
We've got you covered.
For example, we provide standalone and cloud pharmacy management software.
Got more questions for us? Ask our industry experts today.
Download Free Edition Here