How to start your own scanning center using scan software center in your location?
Medical Diagnostic Center- As there is high commercialization in the medical industry, the pathology lab & diagnostic center field is growing fast in the global arena. Starting a scan center in India is a pretty lucrative choice as the market is growing rapidly at a rate of 20% and is currently worth approximately 4000Cr. With more people getting access to high-quality healthcare, a scan center with radiology software will also be a significant requirement. But are you aware of the flow of setting up a scan center?
Vanuston provides solution for scan center software, scan software, startup scan center, new business scanning center, radiology software
The process of setting up the scan center is as follows:
1. Registration
The initial step toward opening a scan center in India is to register the diagnostic center as per statutory norms. It includes getting licenses and accreditations from statutory authorities which differ with every state in India.
As human safety is at risk, various rules & regulations are to be followed while setting up the scan center. The diagnostic center should have a particular license to make sure the reports are accepted and are validated by doctors & hospitals. Some of the necessary licenses that are to be acquired are :
Good Clinical Practices (GCP) Accreditation
A trade license under the Shops and Establishments Act
Registration under the Clinical Establishment Act
Registration with the Biomedical Waste Disposal Body
NOC certificate from the Fire Department, Local Municipality Office, and Pollution Board
2. Location
The next aspect to consider is the location. In the case of any business, location is one of the major criteria that decide the profitability of a business. The scan center has to be set at a prime location that is easy to access by patients such as pregnant women, senior citizens, ill patients, and others.
Another aspect to consider is medical equipment which also needs a large space and an undisturbed environment for seamless functioning. So, maintain the location hygienically with good ventilation or if necessary air-conditioned.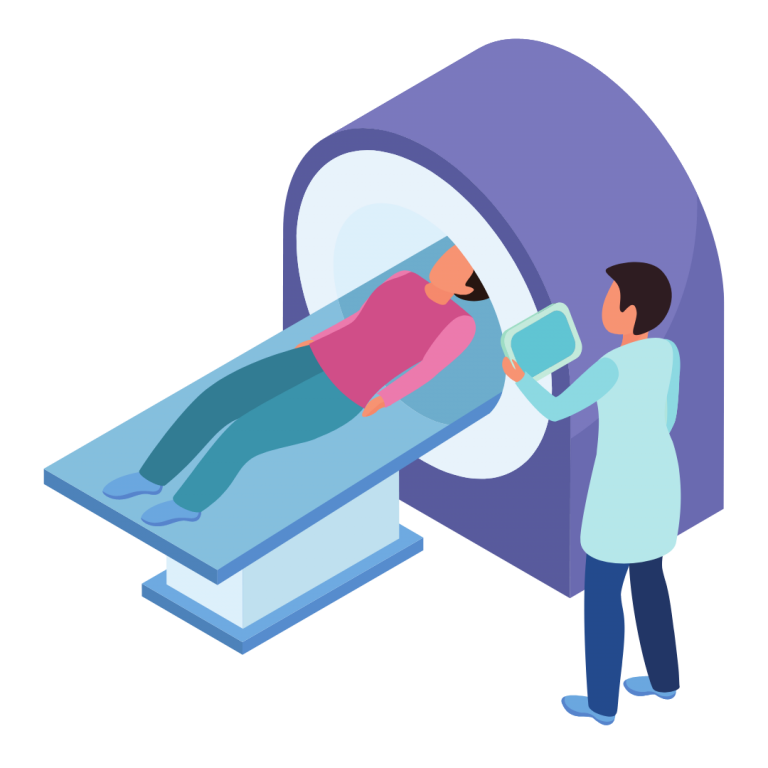 3. Finances
A scan center needs adequate capital for its operation. The initial setting-up cost will differ based on the services provided. However, the direct equation is that the higher the investment, the better the chance of patients visiting the scan center as it will have advanced technological services.
Certain expensive factors in a scan center business are the medical equipment. Apart from this, there is a necessity for water, electricity, water, Air conditioning, maintenance of hygienic surroundings, and the requirement of well-qualified technicians to offer Medicare facilities.
It is an essential aspect of the scan center. There is a need for different medical equipment like X-ray machines & CT scan machines to blood collecting devices. Apart from machinery, various chemicals have to be acquired to aid technicians perform various tests. The basic equipment list for the scan center is-
Incubator
Microscope
Centrifuge Machine
Colorimeters
Pipette
Reagents
5. Technicians
The employee working at the diagnostic center would make a big difference in the success of the business. The team must be professional and must be hired checking various factors such as their professional qualifications. Training the staff adequately is a must. Experience is also an important criterion. Certain qualifications desired for a technician at a Diagnostic center are-
A biochemist and a microbiologist.
Lab Technicians qualified with Diploma degrees or Bachelor's in Medical Lab Technology
A individual qualified with MBBS in pathology from the All-India Medical Council.
6. Software
Automation & Computerization are necessary for starting a scan center as it supports increasing efficiency & organizing the data in an effective manner. There are different advanced software applications that aid in the smooth functioning of a scan center. Some of them are :
MedeilPlusCloud: This is a completely automated hospital solution that aids in the management of the business
2.メデイルプラス: This is the best solution that will support maintaining, managing, and sharing test reports & records with technicians and doctors
3. Medeil: This is the most widely used software in pharmacies which can be customized for diagnostic centers as well. It supports streamlining various processes in the diagnostic center. It helps to manage prescription and billing, inventory, analytics, etc.